Activities on site and in the area
The wide range of activities on offer at the campsite and in the surrounding area make a stay at Camping le Couderc like nowhere else. The special offer of theatre, events and music ensures a unique experience every year. Various sports and game activities are organised every week in and around the campsite. Take a look around and get an idea of the atmosphere at Camping le Couderc.
All
Camping-en
Surroundings
Sport
Pétanque tournaments are organized three times a week on the eight jeu de boules courts. The winners win a bottle of Couderc wine.
You can enjoy a great workout on the sports course and during the summer months various sports activities are regularly organized such as football and volleyball matches, table tennis tournaments, archery lessons,...
Go completely wild on one of the trampolines or take it a bit easier and take a lovely relaxing walk on the nude walk. You can also use our cycling and walking routes outside the campsite.
Gastronomy
Duck confit, Perigord salad, omelette with ceps, walnut cake... The Périgord cuisine offers many delicious recipes. Discover all the products of the Périgord in this department rich in gastronomy.
Restaurants
You can enjoy all the delights the region has to offer just about anywhere, from a simple restaurant to a starred restaurant nearby. Le Couderc also has an excellent and affordable restaurant where you can enjoy deliciously prepared regional dishes.
We have a list with a selection of restaurants in the region that we have tested ourselves. Don't hesitate to ask for more information at the reception.
The vineyards of Bergerac
As soon as you leave Le Couderc by car, you will notice the many vineyards in the landscape. The wines of Bergerac include a dozen different appellations, such as Pécharmant and Monbazillac. You can also visit a wine château and take part in a wine tasting, like at the Château de Monbazillac.
Games
Lots of fun popular games are often organised such as the Smuggling Game, Living Stratego, Werewolves, Scavenger hunts...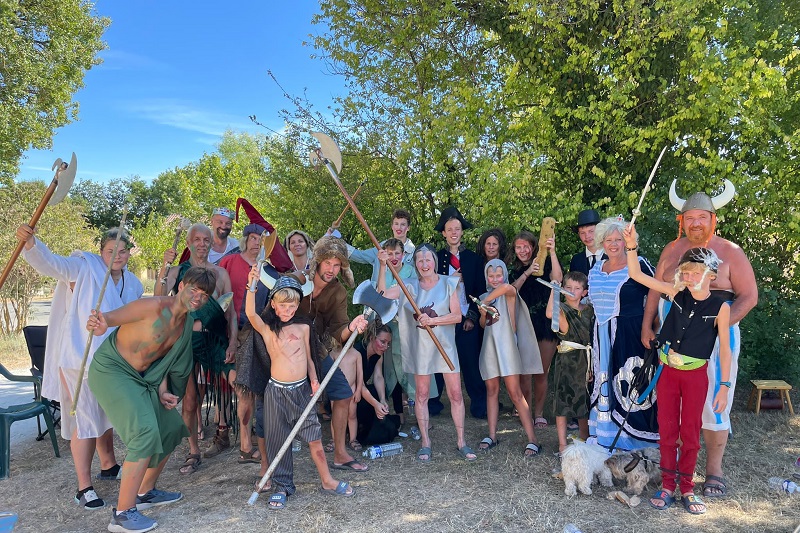 Nature
The rolling countryside of the Dordogne and its natural beauty will give you a sense of lightness and tranquillity.
Stroll through fields of corn and sunflowers, smell the fruit trees along the paths and tracks, listen for and identify different insects, daydream in front of a beautiful sunset, watch the Milky Way at night near your tent.
Nature offers us so many secrets, live at the rhythm of nature to fully enjoy your holiday.
Markets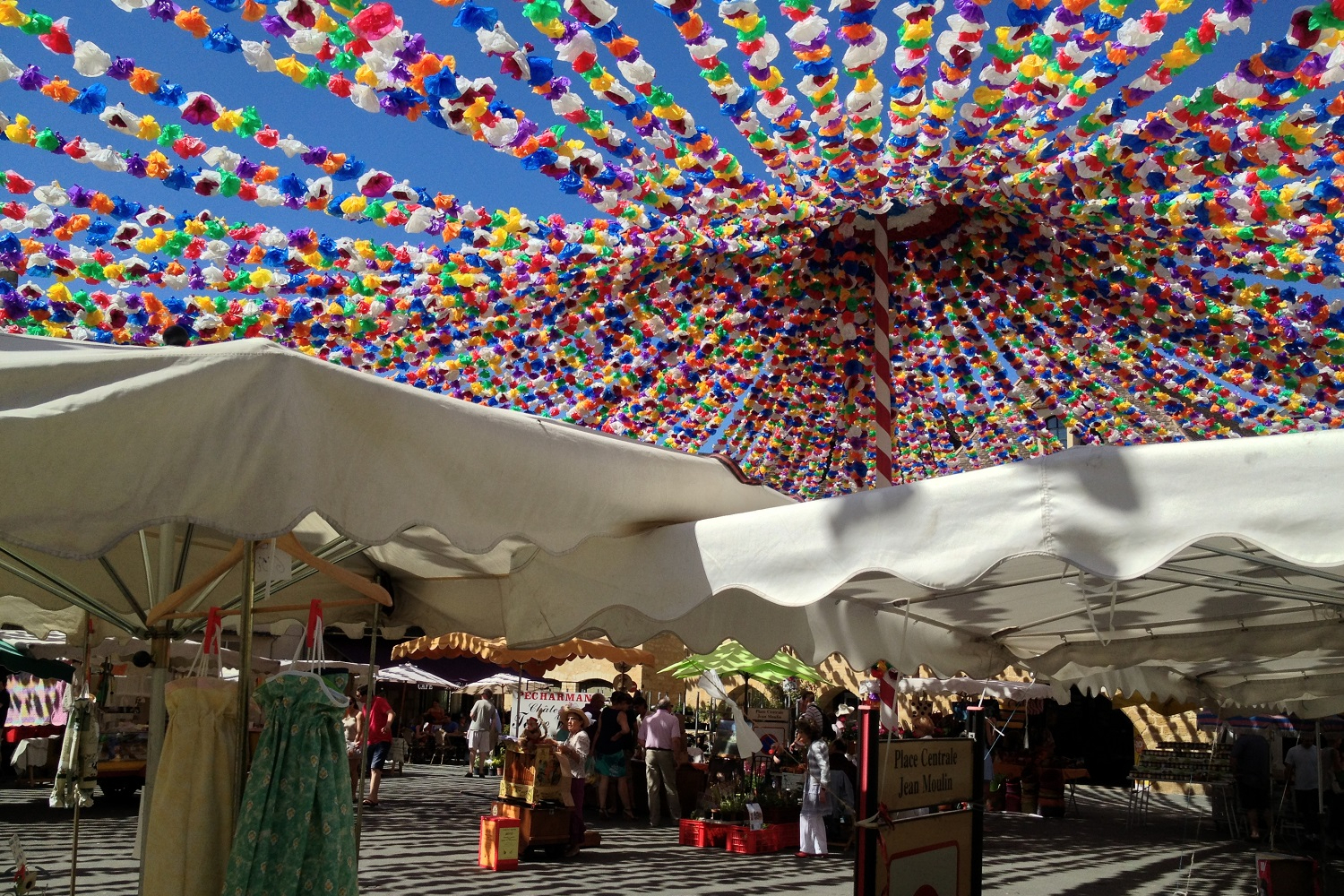 During your holiday, don't forget to visit one of the many village markets, garage sales and food markets.
On any day of the week you will find a small local market in the vicinity of the campsite. We will provide you with a full list of villages and days at reception. Discover the local products, local and organic products, while strolling through the beautiful alleys of these authentic villages.
At the gastronomic markets, you will discover the local gastronomy while enjoying a nice atmosphere and swaying on the dance floor of a music concert.
In addition, numerous garage sales and flea markets are organised regularly throughout the season.
We will provide all the necessary information at the reception.
Castles and fortified towns
Majestic castles, picturesque villages and medieval bastides will surprise you with their incredible beauty.
The Dordogne is sometimes called "the land of 1000 castles". Just a few steps from Le Couderc, you will find not less than five castles. A visit to one of these beautifully preserved historical gems will take you back to a bygone era. Most of the castles are strategically located on high ground with beautiful views and some have magnificent gardens. Some hold events during the summer months, such as Château des Milandes and Château de Castelnaud, making a visit to the château an unforgettable experience for young and old alike. The gardens of Marqueyssac and the mysterious ruins of the Château de Commarque are also worth a visit.
Around Le Couderc there are many pretty bastides and medieval villages. Here, time has almost stood still. You can walk through the old narrow streets or have a refreshing drink in the market place. Issigeac, Monpazier, Belvès, Molières or Limeuil, Sarlat, and Saint-Léon-sur-Vézère are worth a visit. La Roque-Gageac, the fortified town of Domme, the sloping streets of Beynac and Rocamadour are unforgettable and very romantic settings.
In these towns and villages there is a wide programme of events and festivals in the summer, where gastronomy, music and dance go hand in hand.
For more information, you can always come and see us at the reception!
Kids' club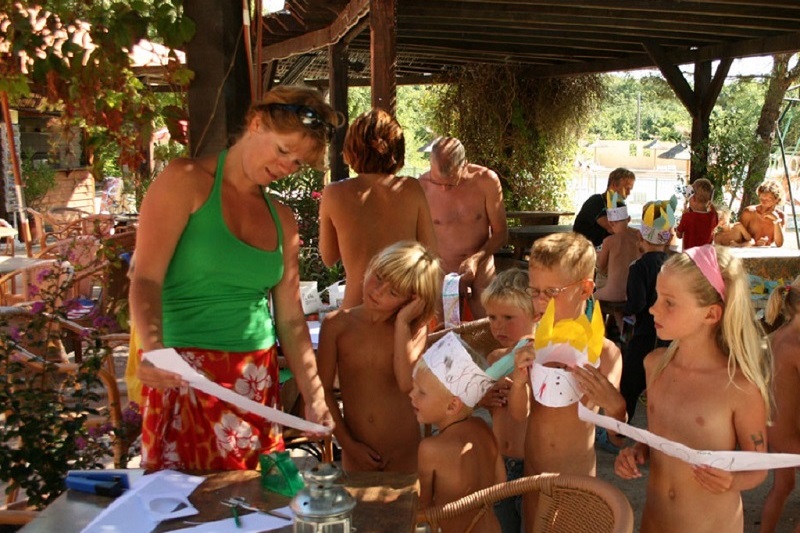 In high season, a creative club for the little ones is organised every day. Cutting, gluing, painting, drawing, modelling clay... The children are always so proud to show their creations to their parents on their return.
Caves and (pre)history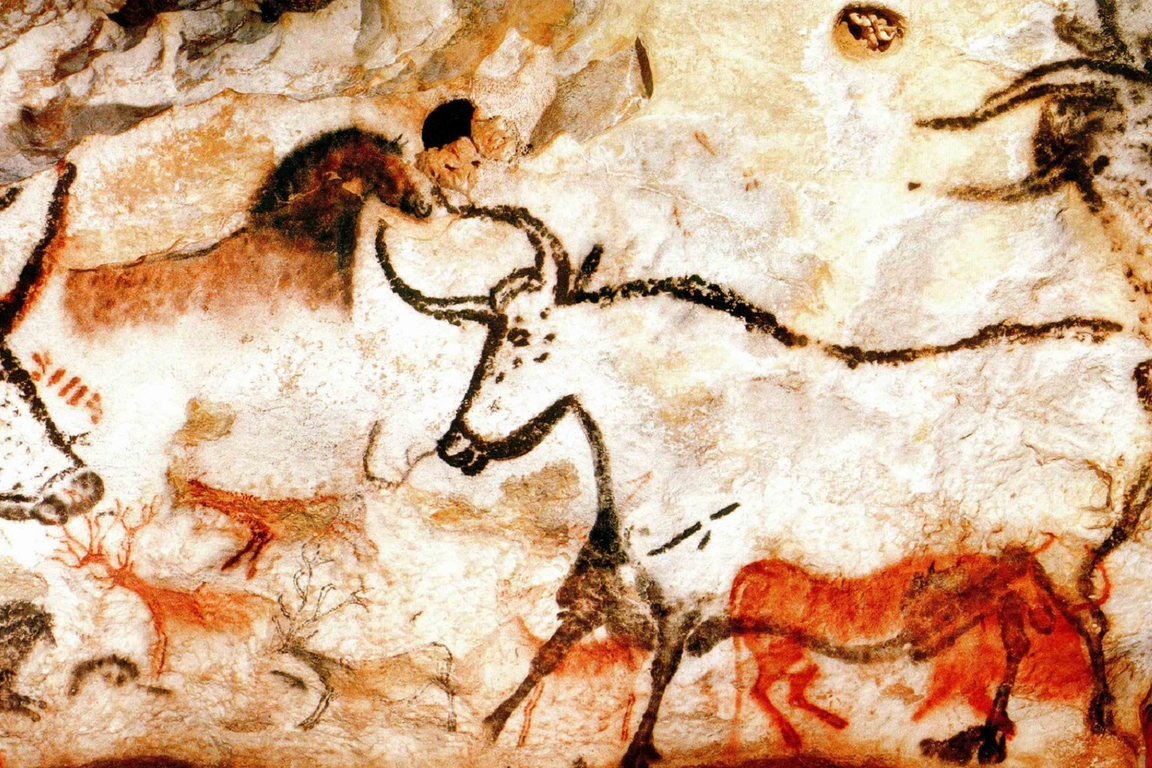 The Dordogne is undeniably linked to the prehistory. The Cro-Magnon man has left many traces in this region.
Les Eyzies, less than an hour's drive from Le Couderc, is rightly called the capital of prehistory. Many caves are open to public, such as La Roque Saint Christophe, the caves of Roc de Gazelle,... not forgetting the world-famous Lascaux II and IV caves. It is an incredible experience to walk through the caves where our ancestors created the first works of art in history of mankind.
The various prehistoric parks, such as the Prehisto-Park, are recommended for families with children. The workshops and life-size statues give you a good impression of how prehistoric man lived, hunted, made fire and cut stones. The National Prehistory Museum at Les Eyzies is educational and interesting for older children.
Less going back in time but certainly worthwhile is a visit to Le Bournat, an outdoor museum in Le Bugue. It is a completely reconstructed village of the Périgord around 1900. Workshops and animations immerse you in the life of the beginning of the last century. Young and old are fascinated by the life of the past: a blacksmith forges his iron, a steam oven is put into operation, the old agricultural tools are ready for use, the fairground attractions from the beginning of the last century complete the picture. Great for a family outing!
Theme days for children
A desperate king, an unhappy tree creature or a crazy underwater inhabitant... What do they have in common? They all come to visit Le Couderc from time to time and ask for help from all the children! Every Monday in high season, all children's activities are based on fairy tales, fables or even stories created from scratch.
Horse riding, tennis and golf
There is a lovely riding school four kilometres from the campsite. For young and old alike, there are beautiful nature excursions. Even beginners can gain experience here. If you want to go out in a group, you can sign up at the reception several times a week for a horse ride through the woods.
For tennis enthusiasts, there is a tennis court 8 km away.
There is an excellent nine hole golf course at Château Les Merles, 20 minutes from the campsite.
Adventure park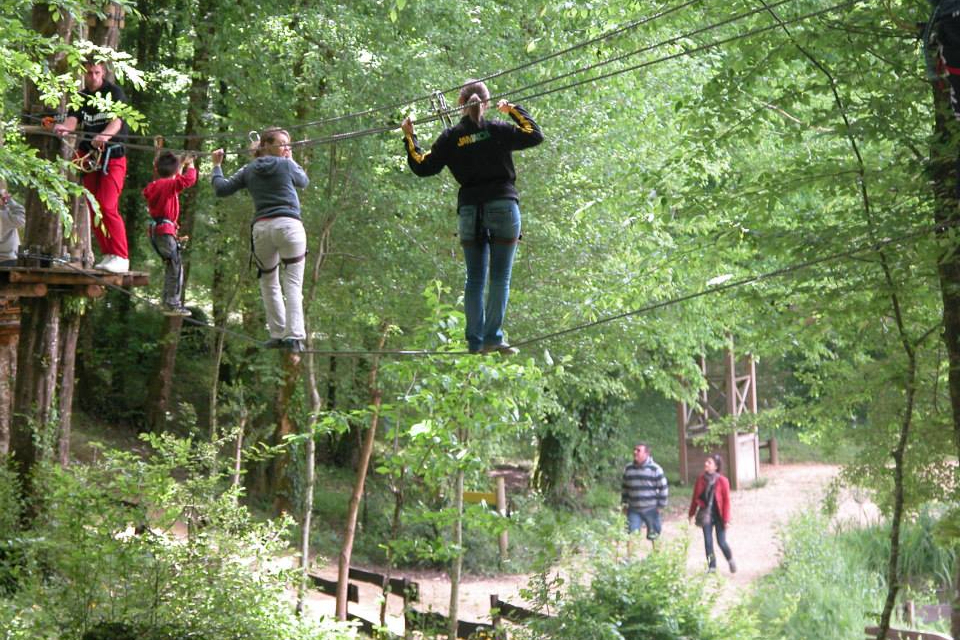 Exercise all your muscles and move around in the trees! The various tree parks, such as "Parc-en-ciel", offer climbing courses of different levels through beautiful forests. An unforgettable day out for the whole family! Once a week, a group departure is organised from the campsite, so that you can leave in a group with other people (transport not included).
Pony ride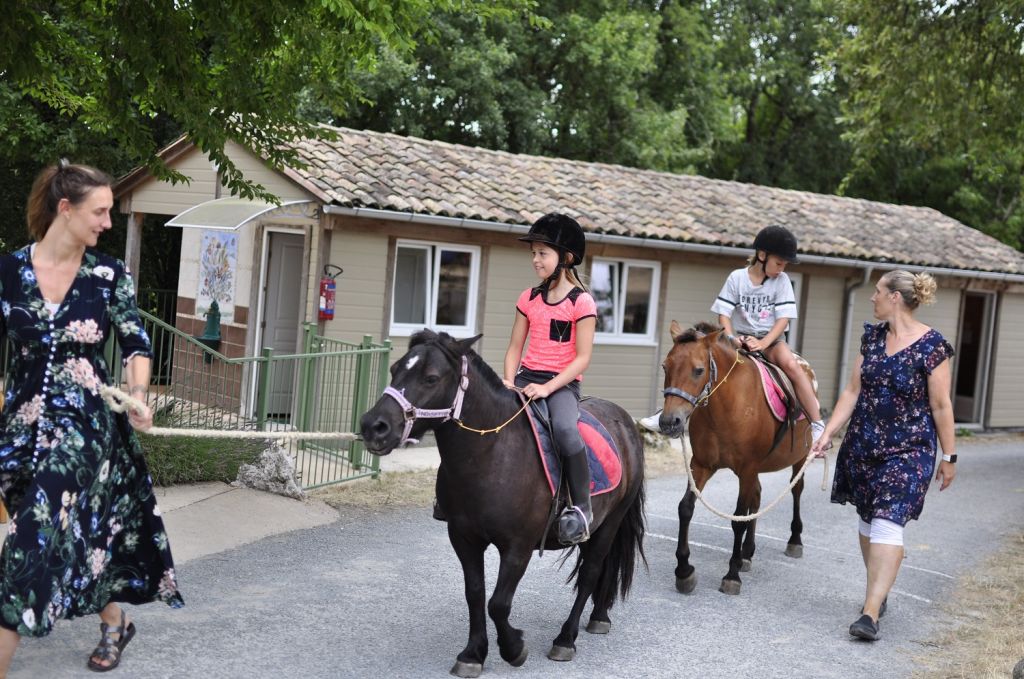 In high season, children (2-11 years old) can take a weekly pony ride on the campsite. Fun times guaranteed for the little ones!
Canoe trips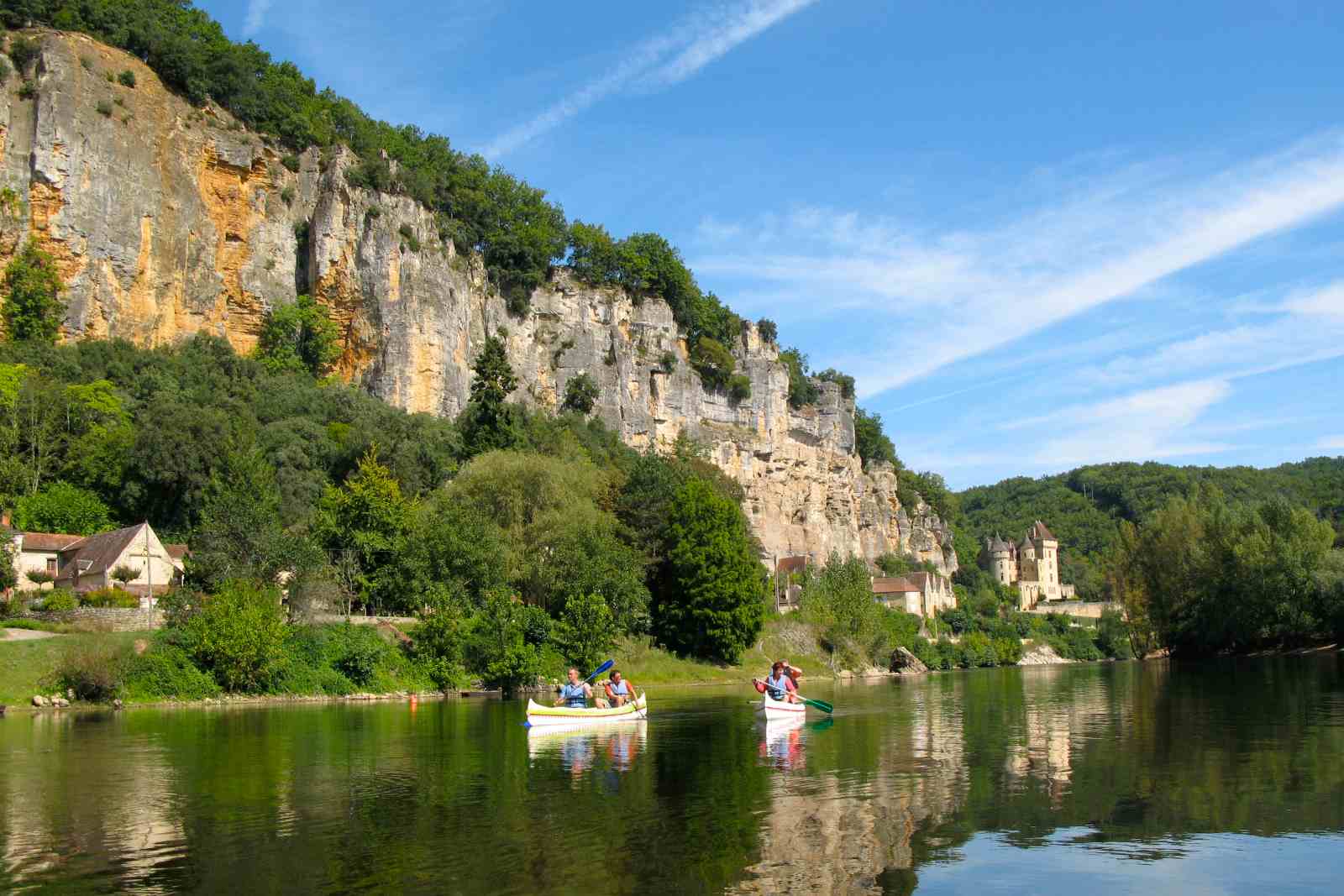 On the rivers Dordogne and Vézère, both beginners and experienced canoeists will find what they are looking for. Quietly paddling along steep rock faces and small pebble beaches, you can enjoy the unspoilt nature and admire the castles from the water. You will discover the area in a completely different way!
Along the rivers, there are several canoeing companies. Once a week, a canoe trip is organised from the campsite. This offers you the opportunity to set off together with others.
Open Podium
Every Wednesday is the famous Open Podium, for and by the guests and presented by Olivier. Whether inside the bar or on the terrace, the programme of this open stage usually consists of songs, poems, theatre, improv and more. In high season, a special Open Podium for children also takes place. Unleash your creativity and overcome stage fright to share what you prefer with others.
We offer a small selection of instruments for you to use such as two pianos (classical and electronic), guitars, a drum set, but feel free to bring your own instrument!